Daaaahn to Margate
Big Fish Little Fish will be raving it up at Dreamland Margate again on Saturday 31st October with DJs the Readers Wifes (Duckie). There are still a few tickets left – you can get them HERE.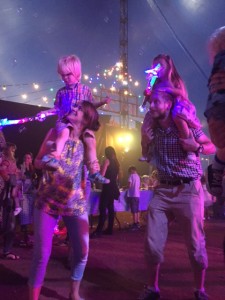 Last time we went it was hot and sunny and we had the chance to spend a few days down on the East Kent coast. It's a fantastic place to visit if you're travelling from London (especially from South London) as it's not too far but it's far enough to seem like a proper trip.
Here's what we rated:
Botany Bay
This little bay is just outside Broadstairs and has a lovely sandy beach, not too busy and brilliant for sandcastles. It's secluded, there are stunning chalky cliffs and, as there should be, there's a little cabin selling ices, tea and buckets and spades.
Broadstairs
Morelli's in Broadstairs is rightly famous both for its stunning mid-century interior and its fantastic gelato. The Alphonso Mango flavour is my favourite out of a strong field, and I've lately been getting regular fixes from their new branch in Covent Garden. The beach is lovely and sandy and in the summer months they have a few rides and bouncy castles for the kids. There's lots of nice restaurants – we stuck with Posillipo as I knew it was good and had some delicious fish on the terrace and then saw loads of fireworks being (illegally) let off from the beach.
Just outside Broadstairs there's the Hornby Visitor Centre. It's full of model trains (including a moving Thomas one), which will keep pre-schoolers entranced for a few hours.
Birchington/Minnis Bay doesn't get a lot of attention but it's a great place – long stretches of sand, when the tide goes out there's loads of rock pools to explore (we found a hermit crab that my son named 'Bert' and a giant oyster that I nearly took home and ate but chickened out). There is a pub/restaurant with outdoor seating (called The Minnis) but when we went the staff seemed to be mostly about 15, the service was a bit chaotic and the food was nothing to write home about. Nice view and space for the kids to run around though.
Margate
The main event! We absolutely loved the Turner Contemporary – it's a stunning building with views through floor to ceiling windows straight out to sea. I wish I'd gone without kids to properly enjoy the Grayson Perry exhibition but they loved the giant mobile/sculpture downstairs with cymbals you could hit (only with the gallery's own padded beaters and only for 10 minutes every hour – the staff looked extremely pained during the ten minutes of bashing). There are coloured pencils and easels for the children to draw on by the main desk and the food in the cafe was great.
Fort's Cafe, – I know everything I'm writing is about food. I just really like food, sorry. An amazing morcilla dotted scrambled egg on sourdough, bloody mary and peanut butter ice cream was really fort-ifying (sorry), and everything else on the menu looked as good too. Just to mix things up a bit, it was me who tipped over a drink here rather than one of the kids: I picked up a toy and some bit fell off it straight onto the little one's glass of apple juice – cue prologned screaming, even after a replacement was bought.
Dreamland itself was brilliant – the kids still talk about it all the time. We'd worried it wouldn't live up to the hype, but as it happens they've clearly thought about the quality of the experience for visitors at least as much as the styling. The rides are really great, and the overall look of the place – the design and choice of retro pastel colours to match the vintage feel – was so pleasing. We loved the 'Born Slippy' slides and were lucky enough to see a man dive from a very great height (whilst on fire) into a tiny tub of water. The smaller children's outdoor space where they could sit in tiny wooden fire engines was so cute and the Roller Disco hall was another spectacular visual treat. Now, nearly every time we tweet about Dreamland, we get retweeted by John Challis – aka Boycie from Only Fools And Horses. I imagine he's got some interest in the place, but that's irrelevant to us: every time it happens Hannah and I squeal "retweeted by Boycie!" But, um yes, anyway: we will be in the Ballroom on Saturday and hope you can join us for a "spooky" family rave.
by @NatashaBFLF