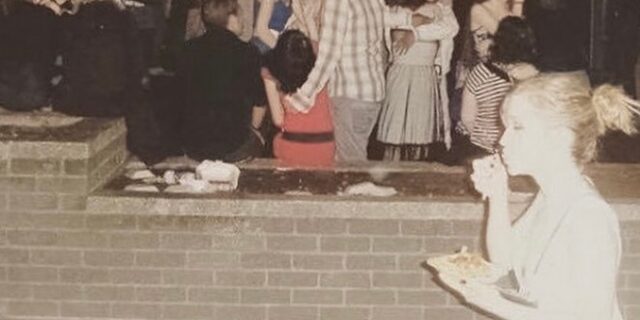 The Kebab Girl
Every year this photo seems to recirculate on social media; showing the outside of the original Snobs venue, with people pouring out at 3am and, in the front of the shot, 'kebab girl'.
You may be wondering… What became of her? Where is she now? Was the kebab okay?
Well, I can tell you… Snobs didn't leave her mind for a long time. In fact, she was there most Wednesdays for two years. And, is here now writing this 'love note to Birmingham nightlife' about a decade after the photo was taken – Hello! I'm Sophie and I run Big Fish Little Fish West Midlands.
For many Brummie Millenials, Snobs was a gateway to Birmingham nightlife. A right of passage that everyone took, even those who were blasting UKG and Joe Hunt bassline on their Sony Ericsson could be found ordering 50p shots from the indie room.
What really sticks in my mind about this time was smoking inside! After a heavy night dancing on broken glass (which was allowed?!) and chain-smoking a pack of 10 (!) Sovereign, it was difficult to deny I'd been out the night before to my college teachers.
I stayed in Birmingham for university and began a love affair with Propaganda. They did this great offer of a free taxi from student halls to Gatecrashers (now Pyzym) where the night was held. Relying solely on text messages, most nights here were spent searching and herding the crew to meet back at the DJ box.
When Subway City (now Tunnel Club) introduced its short-lived '10 drinks for £10' offer (REMEMBER THAT!?!) my commitment to the indie scene waned and I was listening to… well I can't actually remember what was on but I always had a good time. The tuck shop (which still runs today) really sorted you out with £1 Mars bars. Anyone who's been here will recognise their vintage, but oddly futuristic, sink/soap/water dispenser sinks.


Things started to get a lot more ravey with the discovery of the infamous Rainbow (now The Mill). An industrial/warehouse vibe that saw me going out in trainers for the first time! They had (and still do) a fantastic terrace where I saw a particularly fantastic Boiler Room set – made all the better with a view of the sunset closing in on the Birmingham skyline.
After watching Dub FX at O2 Institute, my new work pal (now husband) corralled a group of out-of-towners to the back streets to find PST. The club was closed, and we thought all hope was lost. But, a man walked over and asked the 20-or-so of us if we would like him to open up. We agreed, and Rakesh was hailed rave-king as we walked through the dark, graffiti walls up to the second floor where you can find a kitchen serving Jamaican patties. 
A move to Moseley to a truly disgusting house share with 3 lads saw me going out with an older, cocktail crowd at the likes of Hare & Hounds, The Bulls Head (Now Cuban Embassy) and if things got a bit carried away we would head to no-questions-asked Ceol Castle (Now Castle & Falcon which looks alot smarter these days) in Balsall Heath (no pictures available for this one!)
My absolute favourite memory of this time is attending the New Years' Eve rave at The Old Printworks whilst seven months pregnant with my first child. Not overly promoted, rough and ready with a pop-up bar and, randomly, absolute banging chickpea curry – which was a massive hit with my huge baby bump.
Now two kids deep, it is much harder to discover new places – especially those more under the radar. When I do get out, Birmingham never disappoints. With Summer coming up the city will be bustling with festivals, the Commonwealth Games and endless raves and outdoor bottomless brunches. I've got babysitters booked and looking to discover gems. Know any? Comment below TIA
Have your own kids? The next family rave in Birmingham is the world-first – DESI BEATS! With, none other than DJ Bobby Friction. Happening Sunday 22nd May, Rosie's Nightclub, 2PM – 4PM. More details can be found here
Sophie. BFLF West Midlands Regional Manager